Landscape Painting with Louise Balaam in Andalusia
Register your interest in courses like this.
This course has finished but put your name down to be notified about more courses like this.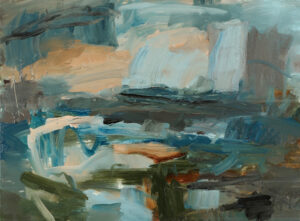 About The Course
September 12th – 18th 
Cost per person  –  £1500 single occupancy 
Cost for two people sharing a twin or double room – £1800 i.e £900 per person 
It is possible to pay in instalments.
Please email us to discuss sharing a room and spreading the cost.
This seven day residential landscape painting course in Andalusia is taught by internationally recognised artist Louise. This course will be an immersive, focussed, relaxing and stimulating opportunity to paint in an incredible location and gain high quality tuition by a well regarded practising artist, whilst enjoying wonderful hospitality in stylish and comfortable surroundings. The group will be small 6 – 8, so a lot of one to one attention will be enjoyed.
'My stay at Cortijada Los Gazquez was one of the most memorable travel experiences of my life (I write Lonely Planet guidebooks so I don't say that lightly) – I was utterly enchanted by the stunningly designed house, the beautiful setting. We stayed as guests and spent our days exploring the immediate countryside on foot or striking out to various towns, national parks, historical sites and one big day trip to Grenada. We then returned each night to a delicious feast and convival table, and the silence and peace of the valley. It was a wonderful family holiday but also would be a romantic escape for a couple, or a relaxing, thoughtful retreat for a solo traveller. I've vowed to return to do a painting or drawing week and was thankful to have discovered a beautiful, very untouristed, part of Spain I might not otherwise have visited.'
Day 1 – Arrival on the evening of September 12th
Arrive at Los Gázquez. Once you are accommodated and rested your tutor Louise and your host Simon will give you an introductory talk to the week over a glass of cava and some olives.
That evening you will have a delicious meal cooked by Simon's wife Donna. She is also an artist, being a food and travel illustrator.
This course will be an exciting opportunity to be tutored by a New English Art Club member and a highly inspirational artist. To start Louise will introduce her work, and outline her way of working. Throughout the five day course there will be a focus on learning to loosen up, and the importance of working quickly and directly. Students will draw outside in the large private garden, woods and fields beyond (weather permitting) and create studies using oil on paper, concentrating on simplifying impressions and identifying the main visual ideas. We will then begin to work on a painting, or maybe more than one. There will be a critique at lunchtime on the last day.
Students will move between drawing outside and painting as they prefer, and Louise will provide one-to-one tuition and help as they work. Some of Louise's own work and sketchbooks, together with information about other relevant artists, will be available as reference and from which to draw inspiration and knowledge.
Day 7  – After breakfast guests make their way home on September 18th
The accommodation and what's provided
There are a maximum of six double and single bedrooms with bedding, each bedroom having an attached bathroom including towels. Sharing a bedroom at a lower cost is an option – please contact us here to discuss this. info@thenewschoolar.org 
Three meals a day are provided:
For many years now Los Gázquez has been running gastronomy courses and we have a strong ethic on 'slow food', home made food, local and seasonal. Expect influences from the Mediterranean especially Spain, North Africa and the Middle East as well as southern India.
Breakfast – typically Spanish with tostada con tomate, alongside tea/coffee, juice, yogurt, fruit, cereal and eggs.
Lunch – typically mezze style e.g hummus and a variety of salads, local olive oil, also soups with fresh bread etc.
Supper – We like to cook as much as we can on the asador (open fire in the kitchen). Expect Moroccan tagine and Spanish paella, chicken al ajillo, falafel, albondigas, cocido, baba ganoush (cooked on the almond wood embers along with home made flat bread), Spanish tortilla with pisto, fabada, a combination of Indian dishes including home made chutneys etc. plus a variety of puddings.
Two studios are available and easels for each attending artist as well as access to the Natural Park all around the house.
THINGS YOU NEED TO KNOW
Getting to Los Gasquez by Plane
Our closest airports are Alicante, Murcia (San Javier), Almería and Granada. These are all around two hours away from Los Gázquez.
International flights are most commonly into Madrid and we would recommend that you transfer for Granada.
British Airways are flying to Granada from London City Airport (follow this link ). Highly recommended.
This is a unique holiday experience intended to entertain, teach and inspire guests. The atmosphere is a happy and congenial one, which will give you lasting memories and something valuable to take home. Group sizes are a maximum of 8.
Course prices include all meals and accommodation, but not the flights or transfers.
Extra drinks can be purchased from Los Gázquez.
Taxis can be booked through us in advance.
The course price doesn't include materials. These can be ordered in advance through Los Gázquez if you prefer.
Oil paintings can be shipped back to your home when dry at an additional cost.
Pay full amount or deposit.
Balance due no later than six weeks prior to the course start dates, see Terms and Conditions for full details.
About The Venue
Los Gázquez – Andalucia – Spain
Cortijada Los Gázquez is set in the heart of the 56,000 acre Natural Park in the north of the province of Almería, in Andalucía, Spain. In a valley of Almond and Pine this converted Farm House has been renovated with a crisp eye for detail which makes the place seem stunningly modern.
Price:
£

1,500.00
Date: 12th September 2017