The Rag Factory
16-18 Heneage Street
London
E1 5LJ
Painting The Head with Ann Gardner
Register your interest in courses like this.
This course has finished but put your name down to be notified about more courses like this.
About The Course
Thursday 25th & Friday 26th January 2018 | 10am – 4pm | 2 Days | Oils
Taught by Slade trained artist Ann Gardner, who rarely teaches in UK, this 2 day Masterclass is an exceptional treat and opportunity to gain knowledge from a practicing artist who was taught by Euan Uglow, Lucien Freud, Patrick George, William Coldstream and Cragie Atchinson.
The main objective of this 2 day course is to teach the students how to paint a 'head' or a three dimensional object in space onto a two dimensional surface i.e. the picture plane, the surface of a canvas.
There are many ways to approach this, using light source and tonality, comparative measurements and flat pattern making.
Ann Gardner will explain these approaches clearly to each student and work closely with them as they paint.
She will also teach how to handle the materials, how to mix colour and to draw with it building up the image.
Through out the course Ann will be referring to artists notably Cezanne, Rembrandt, Titian and other great painters, suggesting paintings that will help students,  can easily be viewed in for The National Gallery London and further afield.
The overall object is for students to learn how to look – not to create a fleeting likeness but to tap into and contain reality. To learn and understand the building blocks of painting and drawing.
All the approaches that will be taught can be used in all aspects of future paintings, landscape, still life and abstract work.
Pay full amount or deposit.
Balance due no later than 4 weeks before the course date, see Terms and Conditions for full details.
About The Venue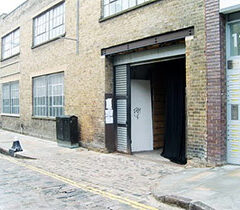 Tracey Emin's old studio is home to our courses at The Rag Factory. The Sewing Room owes it's name from two parts of the building's history, the first as a ladies' coat factory, the second as the sewing room of one of the most famous Young British Artists. This spacious studio has wooden floors throughout, white walls and windows down two sides of the room, with good  north light, it's a light airy space that still keeps human proportions.
Price:
£

275.00
Date: 25th January 2018