The Rag Factory 16-18 Heneage Street London E1 5LJ
E1 5LJ
Portrait Painting Masterclass with Edwige Fouvry
Register your interest in courses like this.
This course has finished but put your name down to be notified about more courses like this.
About The Course
December 2nd & 3rd  | 9.30am – 3.30pm | Oils | Intermediate – Advanced
This two day Portrait Painting Masterclass with internationally recognised artist Edwige Fouvry will be an unforgettable experience, working from the life model, attendees will enjoy demonstrations, discussions and one to one tuition throughout.
The Masterclass will begin with an hours demonstration from Edwige. The class will then start by drawing the model, making some sketches on paper. Each participant will be asked to draw a series of sketches moving around the model, this will help to understand the volumes of the head.
Both days will begin with technical advise, covering perspective, composition, colour harmony. Edwige will talk about how oil paint is made and the use of oil mediums and varnishes, the pigment composition of paint will also be discussed. Edwige will reference to the works of Masters and contemporary painters in her teaching.
At the end of the first day, student will start to work on the canvas with the first layer of the painting. The second day, more general technical advice will be given to the group as the portraits develop.
On second day more detailed painting will be encouraged, whilst still working in a loose language. Guidance on how to resolve and finish the painting will be given.
Pay full amount or deposit.
Balance due no later than six weeks prior to the start of the course, see Terms and Conditions for full details
About The Venue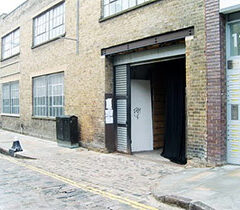 Tracey Emin's old studio is home to our courses at The Rag Factory. The Sewing Room owes it's name from two parts of the building's history, the first as a ladies' coat factory, the second as the sewing room of one of the most famous Young British Artists. This spacious studio has wooden floors throughout, white walls and windows down two sides of the room, with good  north light, it's a light airy space that still keeps human proportions.
Price:
£

275.00
Date: 02nd December 2017